Jim Anthony (Clarinet and Tenor Sax)
Jim hails from Michigan where he performed with concert bands, orchestras, big bands and German bands for 20 years. He played in backup bands for Rosemary Clooney, The Mills Bros, The Temptations, Aretha Franklin, Jerry Lewis, Rich Little, Mel Torme and Natalie Cole to name a few. He performed in more than 60 different Broadway shows, including local performances with 12 national touring companies. Jim played lead clarinet, alto and baritone sax with the Glenn Miller Orchestra from 1978-1985, performing in 14 countries and 49 US states. From 2006 to 2013, Jim was the Adjunct Clarinet and Saxophone Instructor at UNC Asheville. During that time, he also taught at Mars Hill College, and Brevard College. He has been a longtime member of the Asheville Jazz Orchestra and Russ Wilson Orchestra. After living in the Asheville area for more than 25 years, Jim is still busy playing with bands, orchestras and musical theater companies across this region.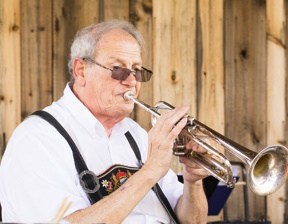 John Entzi (Trumpet and Vocals)
Dr. Entzi is from a musical family and received his B.M.E. degree in 1974 from the University of North Carolina at Greensboro, his M.A. in 1978 from Appalachian State University in Boone, NC and his D.M.A. in 1998 in trumpet performance from the University of South Carolina in Columbia, South Carolina. He has toured and performed extensively throughout the Southeast, where he performed with Holiday on Ice, Disney on Parade, the Ringling Brothers Barnum and Bailey Circus, the Henry Busse Orchestra, The Tommy Dorsey Orchestra, The Jimmy Dorsey Orchestra, Guy Lombardo, Vaughn Monroe, the Glenn Miller Orchestra, Atlantic Jazz Orchestra, When Swing Was King, Nelson Riddle Orchestra and the U.S. Air Jazz Orchestra. Dr. Entzi is currently the Lead trumpet player and co founder of the Asheville Jazz Orchestra. He is often performing with The Russ Wilson Orchestra, The Greenville Jazz Collective and the Michael Gamble Orchestra. He is an active member of numerous music Conferences and Associations as well as Music Fraternal Organizations.
Rick Neiman (Tuba and Vocals)
Rick comes from a musical family and made his debut on his parents radio show at the age of 7. Rick attended Temple University (Philadelphia), majoring in Music Education and Performance. Although his training is mainly in the Classical vein, Rick has performed with a number of touring companies, The Guy Lombardo Band and The Henry Mancini Orchestra, as well as National companies, Ringling Brothers Barnum and Bailey Circus and Long Horn Rodeo bands, and has backed Bob Hope, George Burns and Wayne Newton to name a few. He has served as adjunct low-brass instructor at both Furman University and Clemson University. He was a member of the Asheville, NC based group The Firecracker Jazz Band, '20's and 30's Dixieland Jazz, for approximately 10 years, Principle Tuba with the Lancaster (Pa) and Greenville (SC) Symphony Orchestras and a founding member of the Piedmont Brass Quintet.
Nathan Hefner (Keys and Vocals)
Nathan has been charming audiences all over the east coast for more than 20 years with his dazzling repertoire of music encompassing nearly 70 years of musical triumph. The swinging brass of the big bands as well as the intimate sounds of the post W.W.II era captivated young Hefner. His appreciation of the music led him to begin singing publicly at age 3 and playing piano at age 5. Hefner was already performing for local events and various civic organizations by the age of 11. In 1992, Hefner and three high school classmates formed Sentimental Journey. The four members parted ways and the name lay dormant until 1996 when Hefner created a new incarnation of Sentimental Journey, this time as a trio. In 1997, Sentimental Journey opened for Hefner's idol, the legendary Patti Page. That same year, the trio participated in the opening of Harrah's casino in Cherokee, NC with a three-night run. In 1998, Sentimental Journey had the privilege of kicking off the Jacksonville Jazz Festival and also had a request from Academy Award winning actress, Reese Witherspoon, to be the exclusive entertainment for her Charleston, SC wedding to Ryan Phillipe. Sentimental Journey entertained well and often until the latter months of 1999 when Hefner formally dissolved the group. Hefner's solo performing career has continued throughout. His many notable shows include performnces with The Smothers Brothers, The Lettermen ,and Concord Jazz recording artist, Dennis Rowland. Hefner, along with long time friend Catherine Eason enjoyed a headlining week at the Grand Hyatt Ballroom in NYC. In 1999, Hefner teamed up with Altlanta singing personality, Lenny Stabile in what would become one of his most successful ventures. The two artists (Stabile, 60 and Hefner, 25) created the popular "Two Of A Kind" act based upon the song written by music legends Johnny Mercer and Bobby Darin. Both singers were an immediate hit with audiences everywhere.
Justin Watt (Drums)
A native of northeastern Ohio, Justin Watt has resided in the Asheville, N.C. area for 11 years. Before his move to Asheville, he was the drummer for the world-famous Glenn Miller Orchestra for two years where he toured all over the U.S., Canada and Japan. In Asheville, he is in demand as a percussionist in a wide variety of genres as well as an educator. He teaches part time as an adjunct instructor of percussion at the University Of North Carolina Asheville, adjunct instructor of drum-set at Furman University and percussion at the Asheville Music School.